Spain School adventure trips
Make the most of the summer term with Spain school adventure trips and watersports trips to the Mediterranean.
Stay in our Premier Resort of Platja D' Aro, Spain with its fabulous beaches and handy waterpark.
The Activ4 watersports programme on the Costa Brava in partnership with the renowned Escola de Vela & Kayak on the Blue Flag Sant Pol beach.
The expert programme of instruction is second to none and includes 4 water sports sessions:
Topper Sailing
Stand Up Paddle Boarding
Windsurfing
Kayaking
Topper Sailing
Since its creation in 1977, the only place to learn to sail has been in a topper dinghy. For school watersports trips, the topper is a durable, versatile and above all exciting craft to learn basic sailing technique and the kids, and adults love it. Learning the ropes is easy and the you'll soon be enjoying a new found freedom on the water.
Stand Up Paddle Boarding
As more and more people discover Stand Up Paddle Boarding its popularity has spread as it appeals to all types of water enthusiast. Kids love it and once they work out their balance and how to use the paddle there is no holding them back.
Windsurfing
Windsurfing combines the freedom of surfing with the tranquillity of sailing. The extraordinary feeling of being in touch with nature as the wind catches in your sail and you begin to move across the water is completely captivating.
Kayaking
Kayaking is huge fun and mastering the manoeuvrability of a kayak with your paddle is an art form in itself. The great appeal of being so close to the water in your craft is the feeling of being at one with nature and there is no better way to spend a sunny afternoon on the Med.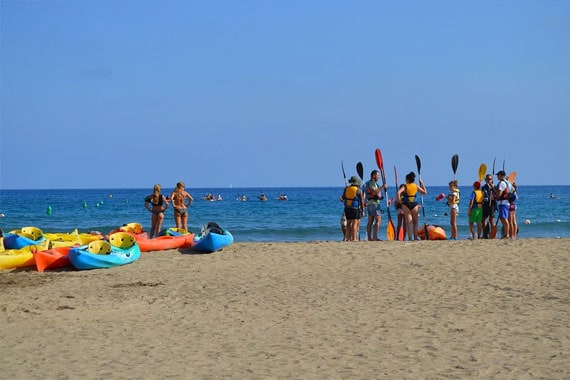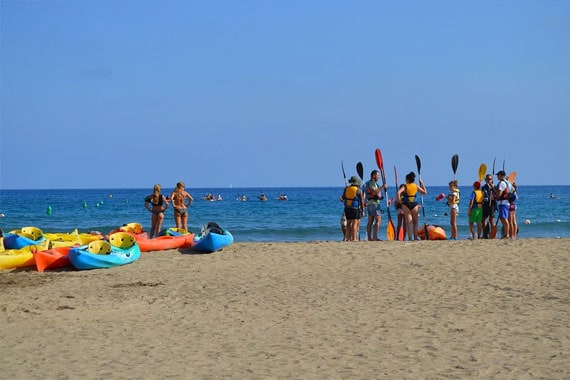 Spain School adventure trips
Duration: 5 days & 4 Nights
Board: Full
Passengers: 40
Free Staff Places: 4
Accommodation
Caleta Palace hotel, Aparthotel Sant Jordi 3* or Platja Park
Excursions & Inclusions
Platja d'Aro Waterpark
Where it's held
Platja D'Aro
Platja D'Aro is a fabulous little town situated on the Mediterranean coast just north of Barcelona.  It is very safe and attractive and provides an ideal location to combine sport, culture and leisure in a natural setting. At its heart is a lovely seafront with impressive beaches and idyllic bays.  The ease of access to the excellent local facilities and the opportunity for excursions to water parks, theme parks, Barcelona and the Nou Camp make Platja D'Aro perfect for school trips.
Sample Itinerary
for Spain School adventure trips
Depart from school and head to Dover where you will cross the channel to Calais travelling overnight to the resort of Platja D'Aro. Make sure you take your favourite DVD's with you to enjoy throughout the journey!
Arrival at the hotel which is located right on the beach and with direct access to one of the most beautiful coves on the Costa Brava, offering great facilities including a swimming pool, a games room, and much more. The wide promenade has lots of sophisticated shops, restaurants and cafes so no surprise that school groups have been coming twenty years.
After a buffet breakfast, your water sport sessions begin this morning and get underway after a safety briefing. The afternoon will be taken up by the second of the water sport activity sessions finishing in time for everyone to return to the hotel and prepare for dinner. This evening you can walk into the centre of Platja D'Aro.
Visit the city of Barcelona. Your group can opt to take a tour around the world famous Camp Nou and the impressive Barcelona FC Football Museum. You will finish your time in Barcelona by heading to Las Ramblas for some shopping time. This evening you can round off your day with a bowling night at D'Aro Bowling alley.
This morning you will set off on the short coach ride across the resort to the Water World in Lloret de Mar- one of the largest water parks in Europe. Water World is an entire city of water attractions where you can enjoy various rides, such as wave pools, rapid rivers, kamikaze and Jacuzzi pool.
Back over to Sant Pol beach to pick up where you left off with the water sports activities. By the end of the day the students will have had the opportunity to participate in each activity. You may wish to end your tour by heading back into Platja D'Aro to party the night away with a disco.
Unfortunately all good things come to an end. After breakfast it's time to check out but there is just enough time for some last minute shopping, try Les Gallerias just off the high street, and lunch before you head out to start your journey to Calais
On arrival in Calais you will set sail to Dover and travel back to school. The tour officially ends when you get back to the UK, but with a trip this great we are sure that it will live long in the memory.